Posts for tag: oral hygiene
By Appleseed Dental
April 12, 2018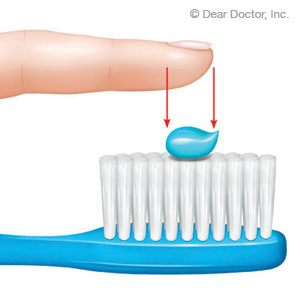 In your search for the right toothpaste, you're inundated with dozens of choices, each promising whiter teeth, fresher breath or fewer cavities. Cutting through the various marketing claims, though, you'll find most toothpaste brands are surprisingly alike, each containing the same basic ingredients. Taken together, these ingredients help toothpaste perform its primary task — removing daily bacterial plaque from tooth surfaces.
Here, then, are some of the ingredients you'll find — or want to find — in toothpaste.
Abrasives. A mild abrasive increases your brushing effectiveness removing sticky food remnants from teeth. And unlike the burnt, crushed eggshells of the ancient Egyptians or the brick dust used by 18th Century Brits, today's toothpaste abrasives — hydrated silica (from sand), calcium carbonate or dicalcium phosphates — are much milder and friendlier to teeth.
Detergents. Some substances in plaque aren't soluble, meaning they won't break down in contact with water. Such substances require a detergent, also known as a surfactant. It performs a similar action as dishwashing or laundry soaps breaking down grease and stains — but the detergents used in toothpaste are much milder so as not to damage teeth or irritate gum tissues. The most common detergent, sodium lauryl sulfate, is gentle but effective for most people. If it does cause you irritation, however, you may want to look for a paste that doesn't contain it.
Fluoride. This proven enamel strengthener has been routinely added to toothpaste since the 1950s, and is regarded as one of the most important defenses against tooth decay. If you're checking ingredients labels, you'll usually find it listed as sodium fluoride, stannous fluoride or sodium monofluorosphosphate (MFP). And since it inhibits bacterial growth, fluoride toothpastes don't require preservative additives.
Humectants, binders and flavoring. Humectants help toothpaste retain moisture, while binders prevent blended ingredients from separating; without them your toothpaste would dry out quickly and require stirring before each use. And, without that sweet (though without added sugar) and normally mint flavoring, you wouldn't find the average toothpaste very tasty.
The ADA Seal of Approval. Although not an ingredient, it's still sound advice to look for it on toothpaste packaging. The seal indicates the product's health claims and benefits are supported by the research standards set by the American Dental Society; and all ADA approved toothpastes will contain fluoride.
If you would like more information on toothpaste and other oral hygiene products, please contact us or schedule an appointment for a consultation. You can also learn more about this topic by reading the Dear Doctor magazine article "Toothpaste: What's in it?"
By Appleseed Dental
January 19, 2018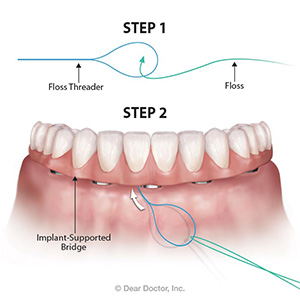 Losing teeth to tooth decay or periodontal (gum) disease is never easy. But with implant-supported bridgework, you can regain lost function and appearance with a restoration that could last for many years.
Don't think, though, that dental disease woes are a thing of the past with your new implants. Although your restoration itself can't be infected, the supporting gums and underlying bone can, often through bacterial plaque accumulating around the implants. The bone that supports the implants could deteriorate, dramatically increasing your chances of losing your restoration.
It's essential, then, that you keep the area between the bridge and gums clean of plaque through daily hygiene. This definitely includes flossing around the implants.
Flossing with an implant-supported bridge will be different than with natural teeth: instead of flossing between teeth you'll need to thread the floss between the bridge and gums. Although this is a bit more difficult, it can be done with the help of a floss threader, a device with a loop on one end and a long, thin plastic point on the other—similar to a sewing needle.
To use it, thread about 18" of floss through the loop and then pass the threader's thin end first through the space between the bridge and gums toward the tongue until the floss threader pulls through. You can then take hold of one end of the floss and then pull the threader completely out from beneath the bridge. Then, you wrap the ends around your fingers as you would normally and thoroughly floss the implant surfaces you're accessing. You then release one end of the floss, pull out the remainder, rethread it in the threader and repeat the process in the next space between implants.
You also have other hygiene tool options: prefabricated floss with stiffened ends that thread through the bridge-gum space that you can use very easily; or you can purchase an interproximal brush that resembles a pipe cleaner with thin plastic bristles to access the space and brush around the implants.
Some patients also find an oral irrigator, a handheld device that sprays a pressurized stream of water to loosen and flush away plaque, to be an effective way of keeping this important area clean. But that said, oral irrigators generally aren't as effective removing dental plaque as are floss or interproximal brushes.
Whatever flossing method you choose, the important thing is to choose one and practice it every day. By keeping bacterial plaque from building up around your implants, you'll help ensure you won't lose your restoration to disease, so it can continue to serve you for many years to come.
If you would like more information on caring for your dental work, please contact us or schedule an appointment for a consultation.
By Appleseed Dental
October 13, 2017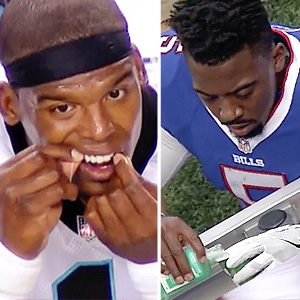 Everyone knows that in the game of football, quarterbacks are looked up to as team leaders. That's why we're so pleased to see some NFL QB's setting great examples of… wait for it… excellent oral hygiene.
First, at the 2016 season opener against the Broncos, Cam Newton of the Carolina Panthers was spotted on the bench; in his hands was a strand of dental floss. In between plays, the 2105 MVP was observed giving his hard-to-reach tooth surfaces a good cleaning with the floss.
Later, Buffalo Bills QB Tyrod Taylor was seen on the sideline of a game against the 49ers — with a bottle of mouthwash. Taylor took a swig, swished it around his mouth for a minute, and spit it out. Was he trying to make his breath fresher in the huddle when he called out plays?
Maybe… but in fact, a good mouthrinse can be much more than a short-lived breath freshener.
Cosmetic rinses can leave your breath with a minty taste or pleasant smell — but the sensation is only temporary. And while there's nothing wrong with having good-smelling breath, using a cosmetic mouthwash doesn't improve your oral hygiene — in fact, it can actually mask odors that may indicate a problem, such as tooth decay or gum disease.
Using a therapeutic mouthrinse, however, can actually enhance your oral health. Many commonly available therapeutic rinses contain anti-cariogenic (cavity-fighting) ingredients, such as fluoride; these can help prevent tooth decay and cavity formation by strengthening tooth enamel. Others contain antibacterial ingredients; these can help control the harmful oral bacteria found in plaque — the sticky film that can build up on your teeth in between cleanings. Some antibacterial mouthrinses are available over-the-counter, while others are prescription-only. When used along with brushing and flossing, they can reduce gum disease (gingivitis) and promote good oral health.
So why did Taylor rinse? His coach Rex Ryan later explained that he was cleaning out his mouth after a hard hit, which may have caused some bleeding. Ryan also noted, "He [Taylor] does have the best smelling breath in the league for any quarterback." The coach didn't explain how he knows that — but never mind. The takeaway is that a cosmetic rinse may be OK for a quick fix — but when it comes to good oral hygiene, using a therapeutic mouthrinse as a part of your daily routine (along with flossing and brushing) can really step up your game.
If you would like more information about mouthrinses and oral hygiene, contact us or schedule a consultation.